The gorgeous and talented
Chace Crawford
from
Gossip Girl
is
V-Man
magazine coverboy where he participates in an old-style photoshoot.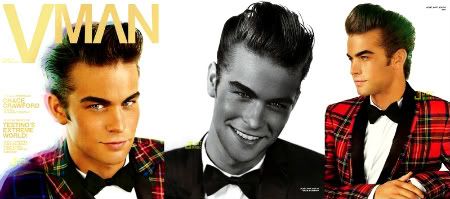 Snippets from his interview [via
JustJared
]:
On noticing Gossip Girl's crossover into the adult world:
"I'll be out on the golf course, and some guy will come up to me, sort of sheepishly, and be like, 'Hey, my wife really loves the show. Can I get a picture with you?' They're always super embarrassed. And I'm like, 'C'mon man, you love the show.' Women get their husbands or boyfriends sucked into it. I like to see that."
On realizing he's been cast for his good looks:
"There are a lot of adverse effects of being a certain type, which I am. Look, I wouldn't be in the business if I didn't feel I had what it takes to have longevity. Everyone has a certain castability, or quality they're always going to have to fight. I think the best remedy is to reinvent yourself. I'm not going to take the same type of role in the future."
On having a a career strategy mapped out:
"I want to do the edgy independent movies, like DiCaprio did, but you have to balance it out. It's about carving out your leading-man role. Fight Club? Yes! X-Men? Yes! All sorts of different films. American Beauty? Yes! I don't know if I could pull off a Kevin Spacey, but I'll try!"
He's just too adorable! Don't you think?
Written By: Annette